Converting Court to Pickleball vs. Constructing a New Pickleball Court
There is no question that pickleball is growing exponentially across the country. Baby boomers have embraced the sport wholeheartedly due to the fact that they want ways to be social and get fit. Pickleball is easy to learn and is easy on the joints. Because a pickleball court is smaller than a tennis court, there's less ground to cover, making it a good sport with anyone who has knee or hip problems, or just achy joints. The racquet sport incorporates elements from tennis, ping pong, and badminton.
If you are thinking about creating pickleball courts in your community, you may be looking at either converting tennis courts or constructing new courts. Which is better? Well, in fact, the answer is "That depends." North State Resurfacing does both conversions and new construction, so we know a lot about both. In this article, we thought it would be helpful to outline information regarding both options so you might be better able to make decisions for your situation.
Basic Information About Pickleball Courts
The size of a pickleball court is 20' wide and 44' long. These dimensions are inclusive of game lines such as the no-volley zone, out of bounds lines, and the net. The net for a pickleball court is the same height as for tennis, 36" tall; however the pickleball net only measures 34" in the center. In pickleball, unlike tennis, the size of the court stays the same for singles and doubles. And, in pickleball, there is a seven-foot no-volley zone extended from the net, popularly known as "the kitchen."
Comparing the Size of a Pickleball and Tennis Court
When comparing the sizes of pickleball with tennis courts, it's easy to see that you can get up to four pickleball courts in one tennis court footprint.

| | | |
| --- | --- | --- |
| | Pickleball | Tennis |
| Court Size | 20' wide, 44' long | 60' wide, 120' long |
| Netting | 34" tall in the center of the net | 36" tall |
| Single/Double Court Size | 20' wide, 44' long | Sing: 78'x27' Doub: 78'x36' |
| No-Volley Zone | 7′ no-volley zone extended from the net | None |
Converting an Existing Tennis Court to a Pickleball Court
If you have an existing tennis court that is underutilized, it's a simple option to convert it to pickleball courts. A tennis court is 60' wide x 120' long, so there is plenty of space to outline a pickleball court. Since a pickleball court is 20' wide x 44' long, you can actually fit up to four pickleball courts on one tennis court.
If your intent is to share the tennis court and the pickleball court, it makes the most sense to only have one pickleball court within the tennis court because it is easier to see both courts. In this case, you outline a singular pickleball court in the center of the tennis court, basing it off the tennis net. Once you outline the pickleball court, as seen by the red court in the image below, you can lower the tennis net to 34" in the center to meet the pickleball standards.
The Pickleball Court Layout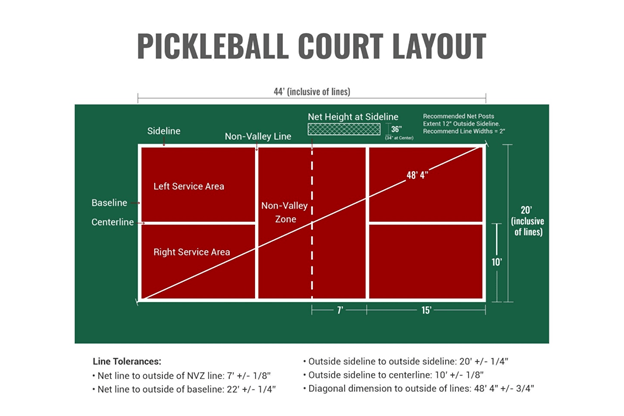 One Pickleball Court per Tennis Court
With shared use of one tennis court and one pickleball court, simply add pickleball lines to an existing tennis court. Players get accustomed quickly to the lines. Lines can be chalked, taped or painted on the court for pickleball. Hold-down arrangements can be used at the ends of the net to bring it down for the correct pickleball height. Or, a center strap can be used to bring the net down to 34 inches in the center. Here is a pictorial that shows how one pickleball court fits into an existing tennis court:
Two Pickleball Courts per Tennis Court
It's a great use of space to create multiple pickleball courts within one tennis court footprint. This may seem a bit more complex, but pickleball nets are portable, making the overall process as simple as lining the court. For converting one tennis court into two pickleball courts, you use one half of the tennis court for each pickleball court.
Four Pickleball Courts per Tennis Court
To convert one tennis court into four pickleball courts, just divide the tennis court into four equal quadrants and create a pickleball court in each quadrant as shown in the next image:
Creating a Pickleball Court for Dedicated Use
If you choose to create a pickleball court for dedicated use instead of sharing with a tennis court, there are quite a few considerations.
Space
You will need to have a space that is adequate for creating the pickleball court.
Pickleball Court Dimensions: 20' x 44' for both singles and doubles play
Pickleball Playing Area: 30' by 60' feet is preferable for tournament play for a standalone court
Court Surface Materials
If you are building an outdoor pickleball court from scratch or if you have an existing court that needs to be resurfaced, you have to choose the type of court surface that is best for you. North State Resurfacing can help you make the best choice for your situation. The most common options are:
Concrete
Asphalt
Snap-Together Plastic
Fencing
Fencing is important because it contains the ball within the playing area and provides security for players and spectators. There are several types of fencing from which to choose, but fences made from wire and are rust proof are the most common. A company like North State Resurfacing who builds pickleball courts can help you choose and install fencing.
Lighting
Lighting is important for those days with short daylight hours. All pickleball courts should include two 1,500 watt light poles. Each pole should be 18 to 20 feet high and mounted in the center of the court, back at least 24 inches from the court.
Cost
The costs of pickleball construction vary widely. Some of the factors that affect the cost are:
The number of courts constructed
Seating for spectators
Lighting for evening play
Type of court surface
Converting from Existing vs. Creating New
So, as far as how converting compares with creating new, a conversion can be a quicker and less expensive fix for creating more courts. Of course, this is only an option if you have an existing tennis court. You will need to consider your situation including space and budget to make a decision. Regardless, you will love having pickleball in your community!
Contact North State Resurfacing to Look at Pickleball Options
If you are considering a pickleball court for your area, contact North State Resurfacing for our expert advice. Our professional, experienced team is happy to provide more information and help you look at all of the options for your situation in order to make the best decision. Give us a call at 919-877-6972 or submit a form for an estimate.