Are you a part of the new sports craze…pickleball? In 2020 the sport grew a whopping 21.3%. Pickleball has grown tremendously because it is easy to learn and the age, gender, or skill of the players doesn't matter. And, it's loads of fun!
You may be looking at building a pickleball court at your home, a recreation center, a school, a country club, or a senior living community. If so, you need to know what is involved in the basics of constructing a court. At North State Resurfacing, we are experienced in creating outdoor courts and can help you with all the decisions you need to make.
The following is a guide to help you understand how much space you need, the equipment you'll need, and other important information.
Pickleball Court Dimensions
Pickleball courts should be 20' x 44' for both singles and doubles play. This is the same overall court size as badminton. The net is lowered from the standard badminton height to 36" on the ends and 34" in the middle.
When laying out the court, allow adequate space outside the end and sidelines for player movement. For this reason, it is recommended that the full court, including out-of-bounds areas, measure at least 24' x 54'. If space permits, a 30' x 60' space is considered an ideal size to allow the most athletic level of play possible.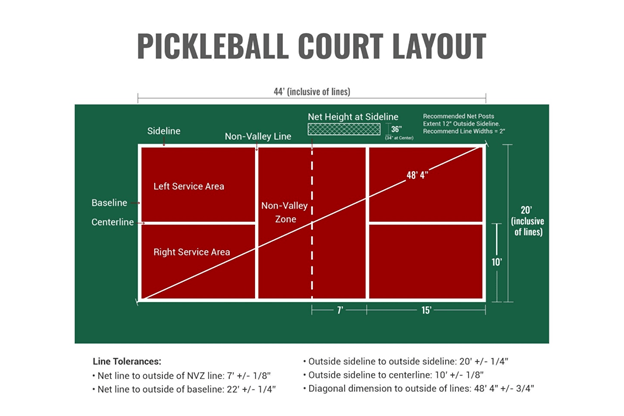 Surface Materials
You'll need to choose the court surface that is best for you. Maybe you are building a court from scratch, or maybe you have an existing court that needs to be redone. Common types of court surface materials for pickleball include:
Concrete: This type of outdoor court surface is the best in terms of both durability and value.
Asphalt: This court surface is a good option for affordability, but it can require additional upkeep.
Snap-Together Plastic: Snap-together court surfaces can be applied over asphalt or concrete if you don't want to permanently alter the surface of a multi-use court.
Perimeter Fencing
Fencing is crucial for multi-court pickleball since it contains the ball within the playing area and provides security for players and spectators. There are a variety of different types of pickleball court fencing you can choose from. But, fences made from wire are the most common because they allow players and spectators to see into and out of the court, and they allow light to pass through easily. A contractor like North State Resurfacing can help you choose the best fencing for your situation.
Lights
If you will be using the pickleball court as the sun goes down, you need lights. Lighting for pickleball courts follows a fairly standard format. All pickleball courts should include two 1,500 watt light poles. Each pole should be 18 to 20 feet high and mounted in the center, at least 24" back from the court.
Pickleball Net Systems
After space, surface materials, and fencing have been determined, you will need to find the pickleball net system that is best for your program. There are quite a few types of pickleball poles and systems from which to choose, and all have different characteristics. Outdoor poles are specifically designed to withstand the elements of being outdoors. A complete outdoor pickleball net system includes:
Two poles
One ratchet
One outdoor pickleball net
Sleeves (these may or may not be required)
Setting Up the Pickleball Court
After the surface, fencing, lighting, and other materials have been selected, you can set up the court. We recommend seeking the help of a professional, especially if you are building a court for a recreation center, club, or school. A professional can ensure that everything is set up to code.
Contact North State Resurfacing to Build Your Pickleball Court
If you are looking to build one or more pickleball courts, call North State Resurfacing for professional assistance. We've renovated and built thousands of outdoor courts across NC, SC, and Virginia. Call us at (919) 877-6972 or complete this easy-to-use form to talk to a licensed tennis and pickleball contractor.